If you are looking for the best nonslip shoes for servers, you've come to the right place.
If you work in a café or a restaurant, then you likely come across situations where you can slip and fall.
Regular shoes aren't designed for slippery surfaces, but if you work in a place that can have liquid or oil spills on the floor, then it is a good idea to invest in nonslip shoes. It is not just for the waiters and the waitresses, but also for those working as cleaners, those who work in factories, or literally any place where the floor can get slippery.
This is not just a safety precaution, but a necessity as falls can cause long-term damage such as tears and fractures, apart from the pain and discomfort. But when buying a pair of shoes for your workplace, how do you decide if they are non slip? And just being nonslip aren't enough, they also need to be good shoes in general so you can walk in them with comfort.
Best Non Slip Shoes For Servers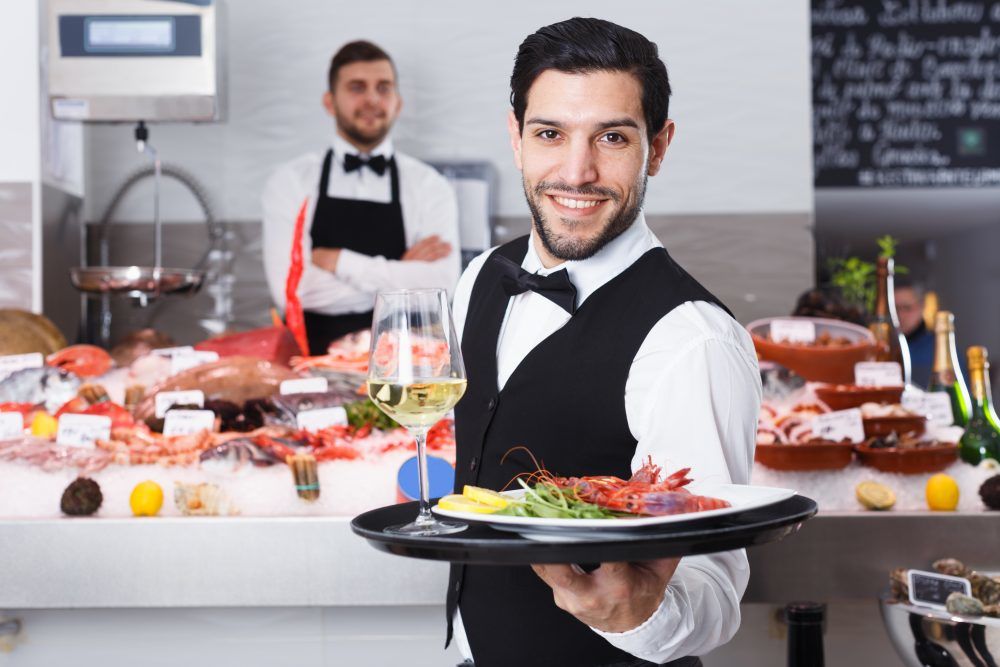 A good pair of slip-resistant shoes that you can wear to avoid slips at your workplace will have the following features:
Grip

: Slip-resistant shoes are those that have a good grip: both on your feet, and on the floor. This means that they need to resist impact and hold your feet firmly in place in case of a slippery surface or even while walking.

Comfort

: This is the most important factor for any shoe, but especially for those people who walk on slippery and uneven surfaces as a daily routine. There will be days when you are busier than others, and your feet need to be comfortable while walking so you do your best at your job.

Cushioning

: Cushions in the lining of the shoe absorb shocks and this reduces the pressure on the joints. So especially when you have knee pains or joint issues, buying well-cushioned shoes that give you the most comfort is vital. This is especially important for servers as their job requires them to be on their feet almost all the time.

Durability

: While most people look for design, the practicality of the shoe has a lot to do with how durable its materials are. Leather shoes or synthetic fabric shoes are more likely to last a long time period. Remember, you are choosing shoes for the workplace, they have to last for as they can because they are likely to be used roughly.

Design

: By design, we just don't mean

Style

, even though that has its own importance in terms of personal expression. But everybody has a certain kind of foot shape, and that means the design for one shoe may not suit everybody. So when you are looking for a pair of shoes, make sure they are suited to your foot style.

Price

: Just because you want shoes that have a firm grip on the surface, last long enough for you to feel like you're money was worth it, look good, and are comfortable to wear for long hours, doesn't mean they have to cost you an arm and a leg. Naturally, the cost of the pair of shoes you choose is something that you will analyze when you go buy your pair.
Let's get to the list! We have compiled a list of best nonslip shoes for servers or waiters in the market, and a table that summarizes and compares their features. The first three shoe features are for male servers, the rest of them are for women. Go through the list to see if you can find the right slip-resistant shoes for you!
Comparison Of Non-Slip Shoes For Servers
Just in case you want an overview of the shoes we have mentioned in their article, you can check out the table below:
IMAGE
PRODUCT
DETAILS

Our Top Pick

Our Top Pick

Grip:

yes

Comfort:

yes

Other Features:

Meets Mark II and EEH standards for safety

Check Best Price

Reasonably Priced and Good Quality

Reasonably Priced and Good Quality

Grip:

Yes

Comfort:

Yes

Other Features:

Semi-formal style, Unveled heel, MX Ride technology, oil resistant outsole

Check On Amazon

Grip:

Yes

Comfort:

Yes

Other Features:

Durable, gel infused memory foam, ventilation

Check On Amazon

Editor's Choice

Editor's Choice

Grip:

Yes

Comfort:

Yes

Other Features:

Durable, breathable, Replaceable PY insole. Removable outsole

Check On Amazon

Budget Friendly

Budget Friendly

Grip:

yes

Comfort:

yes

Other Features:

EVA Soft gel heel. Affordable, budget shoes, water and stain resistant, removable sock liner

Check On Amazon

Grip:

yes

Comfort:

yes

Other Features:

Nonslip rubber outsole, synthetic sole, lightweight, reinforced overlays, flexible, Multiple colors, leather uppers

Check On Amazon
Best Non Slip Shoes For Servers Men
Since Skechers is a widely reputed brand, it is no surprise that it takes its place on our list. The Rockland Systemic is one of the best slip-resistant shoes that the brand has to offer for men. Their casual design and slip-resistant outsoles offer the kind of traction they need for their job.
Besides their impressive design, these shoes comply with the Mark II standards for nonslip safety, as well as the EH standards. The rubber outsole has the grip that you need when walking on potentially slippery surfaces and the traction is amazing, just what you would expect from a Skechers shoe.
In addition, the Rockland Systemic has a stylish leather upper and overlay. The sole has a grip that allows the shoe to firmly grip the surface firmly. Since these combine style, comfort, and safety, there is no doubt that this is one of the best options for nonslip shoes in the market. The rubber outsoles, the grips extended to the heel, the style, and the comfort, and meets the Mark II and EH Standards for safety – all these features make Rockland Systemic a best non slip shoes for long hours.
The Reebok Men's Work N Cushion 2.0 has a leather upper so that you can wear it even if your dress code at work is formal. However, unlike any ordinary formal or semi-formal shoe, the Work N Cushion is super comfortable and very durable thanks to the materials it is made up of.
The design is also very impressive, it has a low cut and a heel that adds to the appearance of the wearer, and it doesn't just slip-resistant, but also has oil-resistant outsoles that provide excellent traction while walking on any wet, slippery or oily surfaces.
They have wider sizes for men who have wide toes and the DMX Ride technology adds to the overall comfort of the shoe wearer. Reebok is a very popular brand for shoes, and with its Men's Work N Cushion 2.0, it has brought forward a very good option for men who work in the serving industry.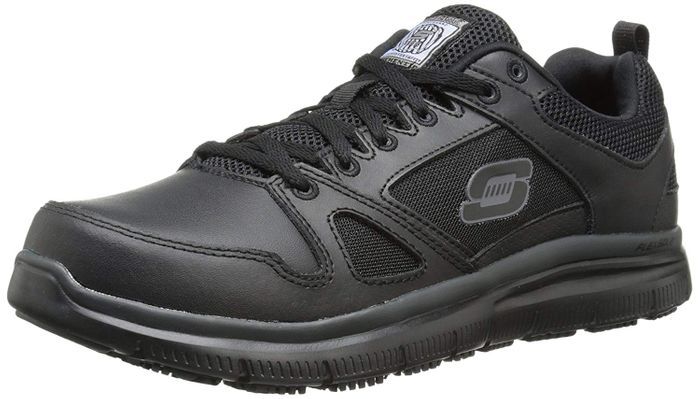 Safe and comfortable, The Skechers Men's Flex Advantage is the best nonslip shoes for kitchen who have to be on their feet for most of their day.
They are built in a classic Sneaker style and have a leather upper that is durable and provides ventilation. The rubber soles will allow you to get a firm grip on most surfaces – even the wet or greasy ones.
The design allows the show to hold your feet firmly for support and the insole has a gel-infused memory foam which provides your feet with the comfort you expect from a Skechers shoe. The insole is removable, so those who have orthopedic problems can remove/replace them.
Best Non Slip Shoes For Servers Women
(Best Non Slip Shoes For Waitresses)
The Skechers Soft Stride Softie for women is a great model by the brand for women in the service industry. The thread pattern is designed to provide the kind of grip one needs when walking on literally any kind of surface – even wet or greasy ones.
They also have removable outsoles so they can be replaced once they are worn out, which increases the overall longevity of the shoes. The shoes are also super comfortable with the insoles lined with PU, which can be replaced if you want more comfort and/or support for orthopedic reasons, or even when the insoles wear out. The leather upper contributes to the overall appearance of the shoe.
The shoes are stitched with care and detail and the Skechers logo is embroidered on the side which makes it look even more classy. The Soft Stride-softie is built of durable, yet lightweight materials so they do not become a hurdle for the wearer and last long so you get your money's worth when you choose a Skechers shoe. They are designed to allow ventilation to the feet, and so they are breathable and your feet won't overheat even when you keep wearing the shoes for long time periods.
This makes them the perfect shoes for works, especially if you have full shifts, or have a job in which you are expected to move around all day. With looks and comfort combined, this sure seems to be an ideal candidate when you are looking for a good pair of shoes for work.
The AVIA Women's Avi Union shoes can be the best option on this list for you if you are looking for stylish slip-resistant shoes that also come at an affordable cost. These are the best women's nonslip shoes for standing all day, and that makes them a great option if you work in the service industry and looking to invest in some good shoes that make your job easier to do.
They are lightweight and make of synthetic leather that is both water and stain-resistant, which makes these low maintenance shoes. This is awesome because one doesn't need to spend their time off job getting their work shoes back into presentable condition.
That's not all, it is comfortable and durable and has a molded EVA soft gel heel that offers comfort in the midsole and can absorb shocks to avoid falls. In case you wish to use an orthopedic sock liner/ insole, the one that comes with the shoe is removable. This is also good in case the insole wears out with time, you can just replace it instead of having to buy another pair of shoes.
The outsole is slip-resistant as well as oil resistant, with a rubber tread pattern that gives you the kind of grip you would wish for at your job. The padded collar and tongue have a mesh lining, allowing ventilation to the feet. All in all, if you want an affordable shoe that grips well, and is durable, then this is the right one for you!
The Dansko Women's Elise Oxford Sneaker offers you the chance to dress casual with a pair of sneakers, but also gives you the advantage of slip-resistant outsoles.
Not only are they stylish in design, but unlike most slip-resistant models, they also come in many different colors so you can choose whichever you like best.
This is great for all the women who need slip-resistant shoes but also want to put on a certain appearance or want shoes that go well with their outfits.
The Elise Oxford Sneaker is made of leather upper, and even has a heel, which is a combination of durability and style! Besides having leather uppers, the shoes are lightweight and flexible so you can walk around all day with ease if that is a part of your job.
The reinforced overlays on the upper and the elastic sock liner help add comfort to your feet, while the grip comes with laced closures, that hold your feet to the shoe so you walk with ease and confidence!
Final Words…
You don't even have to be in the serving industry to want nonslip shoes, we understand that. The grip and the comfort of slip-resistant shoes, however, makes them pretty ideal for casual wear as well. We hope you found this article informative.