You are a tennis player, but your feet are wide Right? And the reason you are here is that you are seeking a pair of shoes that fit your feet.
Along with that you also need something that is more stylish and comfortable. If you consider which pair of sports shoes you can buy, consider their grip, the type of stuff they are made of, and their weight. However, which pair of shoes suit you the most? Well, stop your struggle as we are here to help you out. So what are the best tennis shoes for wide feet available in the market?
Top Rated Tennis Shoes For Wide Feet
In this article, we will compare the 10 top rated tennis shoes for wide feet with their features, material, sole, etc along with the pros and cons of every pair. It is a good idea to go through a list of the top tennis shoes that can help your wide feet, analyzing their features, reading the good and the bad reviews to eventually evaluate what works best for you. Eventually, you will want something that is more comfortable with a level of speed and flexibility.
Comparison Table Of Top Tennis Shoes For Wide Feet
IMAGE
PRODUCT
DETAILS

Our Top Pick

Air Zoom Men's Tennis Shoes by Nike

Material:

Mesh

Design:

Lace-up

Rating:

9.5/10

Features:

Rubber sole, Dynamic Fit, Zoom Air Unit, Midfoot shank, Phylon midsole, Padded collar

Check Best Price

Adidas Boost Barricade

Material:

Forgedmesh

Design:

Lace-up

Rating:

9.5/10

Features:

Rubber sole, Man Made, Soft and stretchable tongue, Abrasion-resistant Adituff, Geofit construction, Adiprene under the heel for superior cushioning, Adiwear 6 outsole

Check On Amazon

Fila Energized Tennis Shoes

Material:

Synthetic/ Textile

Design:

Lace-up

Rating:

9.5/10

Features:

Energized rubber® cushioning, molded forefoot cage and heel cup, molded sock liner, breathable quarter, TPU midfoot stabilizer

Check On Amazon

Material:

Leather and synthetic

Design:

Lace-up

Rating:

9/10

Features:

Rubber sole, ABZORB cushioning, C-CAP midsole, Herringbone outsole

Check On Amazon

Material:

Textile/Molded Polyurethane/Synthetic

Design:

Lace-up

Rating:

8.5/10

Features:

Textile Collar Lining, Draggaurd Rubber & Aosta Rubber Outsole, Molded Ortholite x40 Sockliner

Check On Amazon
1.) Air Zoom Men's Tennis Shoes by Nike (Best Nike Tennis Shoes For Wide Feet)
Nike is a popular brand of tennis shoes who like to play without getting tired. The speed required to play tennis can be achieved only if you are wearing the right kind of shoe. Air Zoom Vapor tennis shoes by Nike allows you to be agile during the match and ends with the desired outcomes for the game. The shoe is made in the USA with being reliable at the same time to work with you for a long.
Speed: With the help of fit technology, you can get the matching speed to play the game. It is adjustable and laces up shoes with mesh material. The open textiles and synthetic material make you feel comfortable at all times.
Upper sole
Mesh Material: The shoe is ventilated and keeps your feet free from sweat while you are playing tennis.
Lightweight: the shoe is light in weight resulting in high responsiveness from the users and also helps in raising the bar while they are playing in the field.
Midsole
Nike Air Zoom Cushioning: Nike Zoom Cushioning is the part of the Nike Air family it is lightweight, durable, and very thin, it is consists of flexible fibers that bring the foot closer to the ground on every impact and rebound quickly which provides the super-responsive feel and enhances the stability.
Dynamic Fit: Dynamic Fit technology increases the running efficiency, improves the responsiveness to foot movement, and create a truly customized glove-like fit. The durability of the shoe never questioned as it lasts longer with the users.
Outsole
Slicker: the outsole is slicker with resulting in high speed and movement during the game. It gives easy movement to the feet when there is a sudden direction change.
Buyer's Reviews
According to the buyers, the Nike Air Zoom Vapor shoe is perfect in ventilation and comfort. They like the material and the overall foot support. There is also arch support which helps them in keeping the toes at the place while playing. So you can say that these are the best tennis shoes for wide feet with high arches. The sole is durable even if you use it roughly while playing. Buyers consider it to be light in weight and have a positive reaction towards the traction of the shoe. Buyers said that it is a shoe that should be regarded as if you are a true tennis player.
Pros
Pros
Lightweight
High comfort level
Stable shoe
Perfect cushioning
Durable Shoe
Cons
Cons
Changing laces can be difficult
Not enough traction for some
2.) Boost Barricade Tennis Shoe Men by Adidas (Best Adidas Tennis Shoes For Wide Feet)
Barricade Adidas tennis shoes are a whole new concept of tennis shoes which you should try. The knit upper sole keeps the feet breathing throughout even if you wear them the whole day. The back of the shoe has a locking feel which keeps the feet intact while you are playing. This is one of the best wide tennis shoes for mens because of the stability, balance, and support that are offered by its design.
Plush comfort: The comfort of this shoe is amazing so you can move and play around naturally. It has memory foam which takes the shape of the foot and does not let make you feel tired.
Shock Absorption: The shock absorption keeps the feet, and the whole body energized by returning it to the foot from the base. So even if you are playing rapidly and making quick moves, you will never have to worry about getting stuck because of the shoes at least.
Upper sole
Knit upper: with the help of knit upper, the shoe expands naturally when the wide feet person wears it. There is no irritation to the feet and keeps it breathability throughout too.
Adituff: the material of Adituff keeps the feet protected while you play in the court along with keeping the toes and heels at comfort. It also adds up to the durability of the shoe overall.
Midsole
Barricade 3D: it is midfoot out of the triangular shape which keeps the feet supportive and stable at all times. It helps the feet to move with freedom while playing tennis.
Boost Cushioning: every step you take gets light through the cushioning as it feels soft on the bottom of the feet. It keeps the heel out of pain no matter how long you play.
Outsole
Adiwear rubber: the outsole is made out of rubber which provides ultimate durability. It also offers traction through the tread pattern of herringbone which keeps the feet stable and moves freely on the court's surface.
Buyer's Review
According to the buyers, Boost Barricade is one of the best tennis shoes for wide feet the shoe is durable and has a beautiful design. It has enough room for the wide feet and fits accurately. The feet do not slip inside so you can play the game conveniently and without any hassle. You will never have to worry about the shoe or get tired after the game of tennis when you are wearing these shoes. The athletes should surely consider this shoe as it helps a push to the feet which keeps the base soft and light. Buyers also said that the shoe is light in weight, so you do not feel heavy when you are walking or playing in the court.
Pros
Fairly breathable
Best fit
Great support to the feet
High protection
Light in weight
Cons
3.) Men's Energized Tennis Shoe By Fila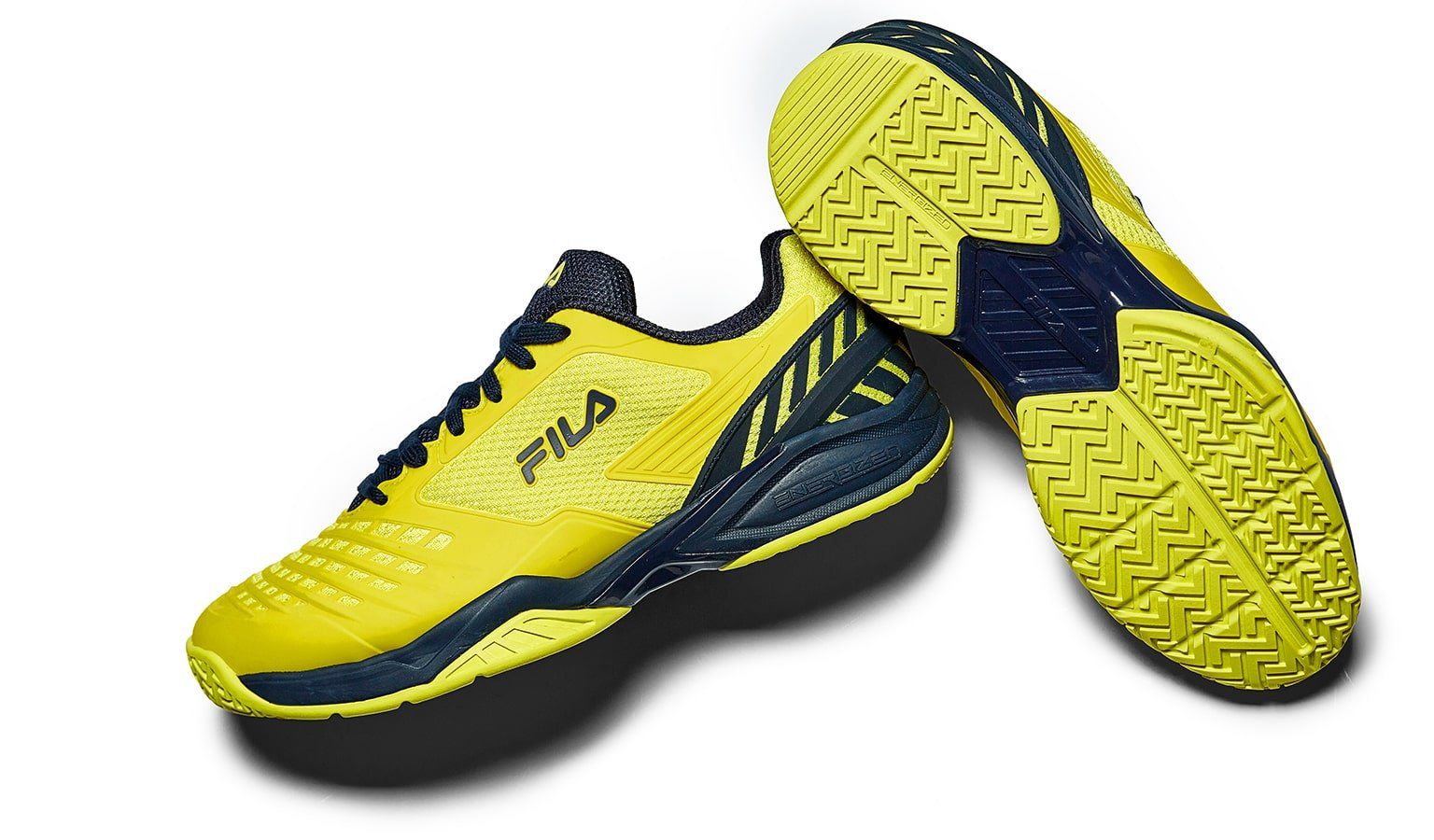 Fila tennis shoe is true to size and best fit for the wide feet athletes that is why we add it to our list of best tennis court shoes for wide feet. It has a modern high performance which you are looking for with a touch of classic style. You can move around freely when you are wearing this shoe and expect the desired outcomes in the court.
Medium Arch: The medium arch keeps the feet comfortable without hitting them from the front of the toes. So even if you are playing a tough game, you will never complain about this shoe.
Stability: The stability of this sho is amazing with having high responsiveness. It helps you in boosting confidence while you are playing tennis.
Upper sole
Molded: the molded upper of the shoe makes it light in weight and free of sliding. So while you are playing the game, the foot is going to be firm in the shoe.
Breathable mesh: the mesh material is free of nylon which keeps the support and comfort of the feet consistently in the court.
Midsole
TPU: it helps in stabilizing the feet during rough cuts and turns in the game. Also, it adds confidence to the user by playing aggressively.
Rebound: helps in playing with energy and holding the feet with a tight grip even if they are wide. You will never pain in the feet after wearing it for the whole day too.
Outsole
Evergrind rubber: The rubber is strong on the outer sole with the tread pattern of herringbone. It adds up to the traction and overall durability of the shoe.
Buyer's Reviews
According to buyers, Fila shoes are one of the best when you are looking for wide tennis shoes. It is perfect for the wide feet and has an energized rubber on the outsole. Buyers also said that they had a great experience wearing this shoe in the court and always felt light on their feet. Even if the game was tough, the shoe responded very well for them and pleased them thoroughly.
Pros
A strong shoe for tennis players
Perfect stability
Adds confidence to the player
TPU support
Mesh breathable material
Cons
Maybe narrow if not ordered one size up
4.) New Balance 806 MC W 4E (Best New Balance Tennis Shoe For Wide Feet)
The New Balance 806 MC W 4E is the best tennis shoes for extra wide feet especially for tennis players who are looking for excellent stability and support for their wide feet. The New Balance 806 MC comes with full-grain leather to deliver good comfort. It has ABZORB®, C-CAP®, and ROLLBAR® technology to provide a smooth, comfortable, motion control, and cushiony ride.
UPPER
Full-Grain Leather: Its upper is made up of full-grain leather which helps to maintain comfort, durability, and breathability.
LIGHTNING DRY®: It wicks the moisture and makes the shoes breathable which helps with the bad odors and keeps the feet drier as moist evaporate better and helps to reduce the bacterial activity that causes the bad odor.
MIDSOLE
C-CAP: Compression-molded EVA is used in these shoes that provide the best midsole cushioning, stability and flexibility. It helps to protect the foot from sharp objects or feeling hard and reduce the impact of hard landings and provide you an amazing experience of walking and running. For personal customization.
ABZORB®: It is the most amazing foam material with excellent cushioning and compression which protects your feet from every bad impact and sharp object.
ROLLBAR®: New Balance shoes have a unique feature to help counter overpronation issues. Rollbar designed to reduce rear-foot movement and adjusts the foot in natural motion from heel to toe which gives the shoe the additional structure it needs to neutralize the overpronation ankle. With the help of ROLLBAR® overpronators and supinators can play more comfortably and efficiently without any pain.
OUTSOLE
NDURANCE Rubber: The other rubber featured in the outsole is a specially designed Ndurance Rubber for maximum durability used in high wear areas.
Distinctive Herringbone Outsole: The outer sole is made out of rubber with a tread pattern with a modified herringbone. It allows great traction to the feet, and you can run smoothly on the surface of the court.
5.) Express Men Tennis Shoes by K-Swiss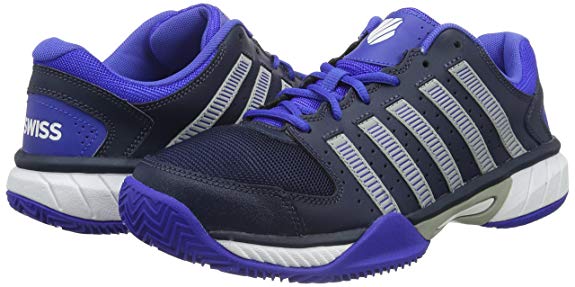 The comfortable and plush K-Swiss Tennis Shoe is light in weight along with being the best support for the feet during the game. There are layers of mesh base which allows the feet to breathe and provide cushioning comfort at the same time. It helps you in movement, and you feel connected to it by moving fast with closing the court with high performance.
High performance: The shoe lets you perform high during the game by giving you the confidence of moving around rapidly without any hassle.
Best fit: If you order one size larger than your actual size, you will never complain about it when you have wide feet. It keeps the feet flexible without slipping inside the shoe on movements.
Upper Sole
Foot Support: The upper sole has the mesh layer which allows support to the overall feet. It will enable smooth breathing while you play on the court for a long time.
Durawrap front: The Durawrap on the front of the sole provides durability and makes you feel easy on the feet while moving around quickly.
Midsole
K-EVA: K-EVA provides cushioning which is plush and keeps the feet on the ground without getting tired.
Stability: The shanks in the midsole allow stability to the feet so you can play without any interruption or twisting of the feet.
Outsole
Traction: there is high-density traction offered by this shoe with having excellent results on the feet.
Aosta Rubber: with the help of Aosta rubber, you can make any patterns while playing on the court and allows you to stay connected to the game at all times.
Buyers Review
Many buyers loved this shoe and considered it to be an effective one for tennis players. It helps you in accomplishing the skill levels and outperforms in the court. The mesh upper and the breathable material helps to support the feet perfectly while the game is going on. Buyers also said that the durability of this shoe is amazing as they have been using it for the past year. It allows great comfort even if you keep on wearing it for the whole day. The grip of the heel does not let the feet slip while moving around quickly during the tennis game. They also admitted that the fashioning style of this shoe makes them look in trend even when they are playing the game.
Pros
Pros
High performance
Durable Shoe
High traction
Best fit for wide feet
Convenient wear
Light in weight
Available in two colors
Cons
Cons
Maybe slightly fitted for some
How to buy Tennis Shoes for Wide Feet Buying Guide
As a tennis player, the type of shoe one puts on greatly determines court performance. Therefore, finding the correct tennis shoes is not just about the label, but key features present for outstanding performance.
Fortunately, manufacturers have made it possible for all to get the best fitting shoes regardless of how wide their feet are. However, finding the best tennis shoes for wide feet may not be a walk in the park, and that is why we are here for you.
In this article, we give a comprehensive guide on what to look for when buying tennis shoes for wide feet.
Tennis Shoes Sizing
A tennis shoe determines a player's performance by enhancing comfort, stability, and protection from injury. For this reason, finding the right shoe size is critical.
Putting on smaller shoes causes callus formation, bony bumps called bunions, and painful ingrown toenails.
On the other hand, larger shoes reduce stability and cause excessive stress on certain parts of your feet. Finding a suitable tennis shoe size is thus key.
Women's Shoe Size Chart
| Size | Narrow (inches) | Medium (inches) | Wide (inches) | Extra wide (inches) |
| --- | --- | --- | --- | --- |
| 5 | 2.8 | 3.2 | 3.55 | 3.95 |
| 6 | 2.95 | 3.3 | 3.7 | 4.05 |
| 7 | 3.05 | 3.45 | 3.8 | 4.2 |
| 8 | 3.2 | 3.55 | 3.95 | 4.3 |
| 9 | 3.3 | 3.7 | 4.05 | 4.45 |
| 10 | 3.45 | 3.8 | 4.2 | 4.55 |
| 11 | 3.55 | 3.95 | 4.3 | 4.7 |
| 12 | 3.7 | 4.05 | 4.45 | 4.8 |
Men's Shoe Size Chart
| Size | Narrow (inches) | Medium (inches) | Extra wide (inches) |
| --- | --- | --- | --- |
| 5 | 3.2 | 3.4 | 3.6 |
| 6 | 3.3 | 3.5 | 3.7 |
| 7 | 3.4 | 3.6 | 3.8 |
| 8 | 3.5 | 3.8 | 3.9 |
| 9 | 3.6 | 3.9 | 4.1 |
| 10 | 3.8 | 4.0 | 4.2 |
| 11 | 3.9 | 4.1 | 4.3 |
| 12 | 4.0 | 4.3 | 4.4 |
Choosing The Right Tennis Shoe Width
Tennis shoes have different widths, and this can be identified by checking on the label.
In men, a narrow width is denoted by B, standard, D, wide, 2E, and extra-wide, 4E.
In women, a narrow width label is 2A, standard, B, wide, D, and extra-wide 2E.
There is also a shoe length and width chart, which, once you have measured your correct shoe width, you can use to find the best fitting shoes.
To determine your shoe width
Trace your shoe outline on a piece of paper
Use a ruler to measure the widest points
Subtract half an inch for an approximate shoe width.
What Is the Difference between Men's and Women's Width?
Compared to women, men have wider feet, and thus a standard shoe size for a man will be narrow for a woman.
This means that while men's shoe width measurements range from B to 4E, that of women ranges from 2A to 2E. In this case, B to 4E is narrow to extra-wide for men, while 2A to 2E is narrow to extra-wide for women.
Below are tables for both men and women shoe widths:
Men's Tennis Shoes Width Table
| Width Label | Label Spelled Out |
| --- | --- |
| B | Narrow |
| D | Standard |
| 2E | Wide |
| 4E | Extra wide |
Women's Tennis Shoes Width Table
| Width Label | Label Spelled Out |
| --- | --- |
| 2A | Narrow |
| B | Standard |
| D | Wide |
| 2E | Extra wide |
Factors to Consider When Choosing Tennis Shoes for Wide Feet
Lateral Stability
To achieve lateral stability, most tennis shoes have synthetic cushioning on the outrigger, midfoot shank, and upper.
Under the foot's arch are midfoot shanks are promoting heel stability. Outrigger serves to widen the sole on the forefoot region, thus adding balance. The upper part of tennis shoes fosters increased freedom of movement.
Play Surface
There are four main types of tennis court surfaces depending on the materials used. These are
Clay courts
Grass courts
Carpet courts
Hard courts.
Specific shoes for each of these grounds make it easier for you to play on the court surface exist.
Thus, as you go for a tennis shoe, keep in mind the kind of surface you will mostly be playing on. Nonetheless, there are tennis shoes that are multi-court and, thus, can be used on any surface.
Heel Support
Good tennis shoes must offer heel stability during play to protect players from heel pain and other associated complications. As you play, your heel should remain firm on the ground for better performance.
For heel support, most tennis shoes have a heel counter, which is a plastic material placed on the back of the shoes and heel traction for easy breaking. Improved comfortability is provided by an added collar padding in the shoes.
Insole
A shoe insole is a material your feet lie on. Most tennis shoes have a removable insole allowing you to replace it with an orthotic sole for better arch support. An insole offers stability by keeping your foot in a neutral position to align with the body.
Checking the insole state is as a result key when purchasing the most suitable tennis shoes for wide feet. Most importantly, you are better off with a removable insole because you can replace it with a better version.
Weight
The weight of your tennis shoes can interfere with your court performance, more so if very heavy. Lighter shoes have better speed as opposed to weightier kinds. One, however, has to strike a balance between weight, stability, and speed.
This is because tennis shoes with more supportive features offer more stability, but have reduced speed because they are heavier. On the other hand, lightweight shoes have fewer supportive features, and though they have the advantage of better speed, they are less stable.
In all these, the best thing is to go for tennis shoes with better stability and comfortability.
FREQUENTLY ASKED QUESTIONS
Can having wide feet affect my performance on the court?
No. What matters most is whether you have the right shoe size for better stability and speed for exceptional performance. You must also be aware of the kind of court you are playing on and put on shoes meant for a specific surface. If you are not sure of the court surface, you are better off with a multicourt tennis shoe.
Is There Any Effect Putting on Wide and Extra-Wide Tennis Shoes?
Yes, there is, but this will depend on whether they are appropriate for your feet.
Wide and extra wide shoes are in reference to the shoe width. While most people will fit well in standard width shoes, others will not and, as such, require either wide or extra-wide shoes.
Going for smaller shoes causes foot problems, including callus and bony bumps, while going for wider than appropriate shoes reduces stability. Therefore, you must go for a well-fitting shoe for better performance.
How to Break in New Tennis Shoes
There are many methods to use for easy breaking into new shoes.
One of these includes applying mink oil on the inside of the shoes and leaving them in the sun for about 6 hours before trying them on.
Also, one can wear the shoes with thick socks on and blow-dry the areas that still feel tight for about 30 seconds if the shoe is made of leather.
The final option involves putting ice bags in the shoes and letting them stay overnight in the freezer.
How can I tell if I have wide feet?
Draw the outline of your foot on a piece of paper and use a ruler or tape measure to get the value between the two widest points. Once you get the value for the width of your feet, compare it against the shoe-sizing chart to know whether you have wide feet.
Are all tennis shoes suitable for all courts?
No.
Different tennis shoes are made to be used in a specific court surface, either clay, grass, carpet or hard surface court. However, there also exists shoes that can be used on any of the four court surfaces.
Are Running Shoes as Suitable as Tennis Shoes for Playing Tennis?
No, they are not.
As opposed to running shoes, tennis shoes have supportive features to enhance lateral stability which is key because of many sides to side cuts when playing tennis. On the other hand, running shoes mostly focus on cushioning to reduce the heel to toe impact on the ground when running.
How Can I know my Feet Size?
To measure your feet size accurately, we recommend drawing an outline on a piece of paper and then finding the longest length and widths. For a better approximation, subtract half an inch from the measurements.
Which Women's Tennis Shoes Are Best For Wide Feet?
Conclusion
We have reviewed the 10 best tennis shoes for wide feet that are available in the market and you can purchase them online from Amazon. After reading the detailed product reviews and customer reviews, you have now got a better idea of the different features these tennis shoes have along with their importance. We hope this guide will assist you in making the best purchasing decision.